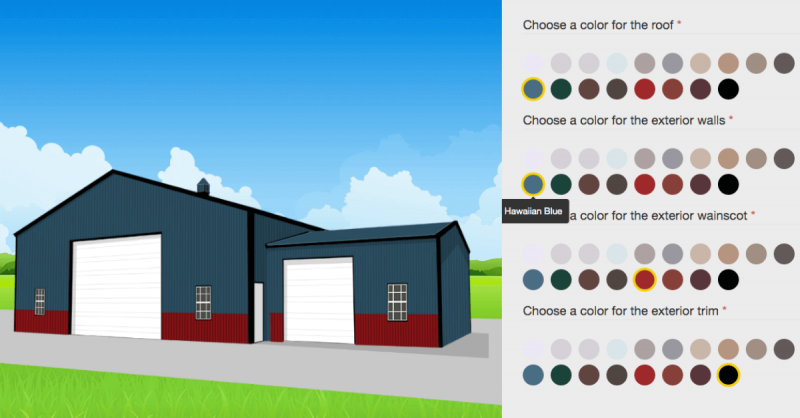 Metal Buildings Considerations
When it comes to selecting a superior building material, metal buildings really should be at the top of your list. More than a "shed," metal buildings can be used for virtually any application or function imaginable — from warehouses to commercial locations and offices to schools, churches, and even residential homes. Selecting a metal building for your next construction project is a no-brainer. With this being said, we understand that there may be one aspect of this process that may not be a no-brainer — selecting the color scheme of your new metal building.
Building Components to Customize
Even though some have selected metal building colors that are relatively drab or benign, your buildings certainly don't have to be this way. In fact, there are a variety of color options at your fingertips. Even more exciting, there are several different parts of most metal building models to customize. These parts include the roof, the exterior walls, exterior, wainscot, and exterior trim.
Still, visualizing the various color combinations possible with these sections of a metal building can be difficult. To help you confidently select your next metal building's color scheme, your friends at Lucas Metal Works are proud to introduce the Metal Building Customizer.
What is the Metal Building Customizer?
Each section of a Lucas Metal Works metal building has 18 different colors:
Cool White
Arctic White
Polar White
Galavalume
Ash Gray
Old Town Gray
Light Stone
Sahara Tan
Sand Surf
Steel Gray
Hawaiian Blue
Forest Green
Koko Brown
Burnished Slate
Patriot Red
Colonial Red
Burgundy
Black
Over 100,000 Color Combinations
Each part of your metal building can come in any of the colors mentioned above. That includes the roof, exterior walls, exterior wainscot, and exterior trim of a metal building. When crunching the numbers, this equals 104,976 possible color combinations. Because we realize that the number of possibilities is pretty insane, we've built the Metal Building Customizer. Using this nifty tool, you can receive a preview of what every component looks like next to the other various metal building components in any of the color options.
Possibilities are Virtually Endless
So, go on — have fun mixing and matching a metal building color scheme that perpetuates your company's brand, complements your other buildings, or something totally off the wall just for the heck of it. While the options aren't technically endless, they are over 100,000, so, I guess you could say they're virtually endless.