Do you need a dedicated work space for your business, for personal projects, or store your tools and equipment? Lucas Metal Works can fabricate a metal shop building to suit any need or purpose. Take a look at all the different workshop possibilities available and compelling reasons to build with steel.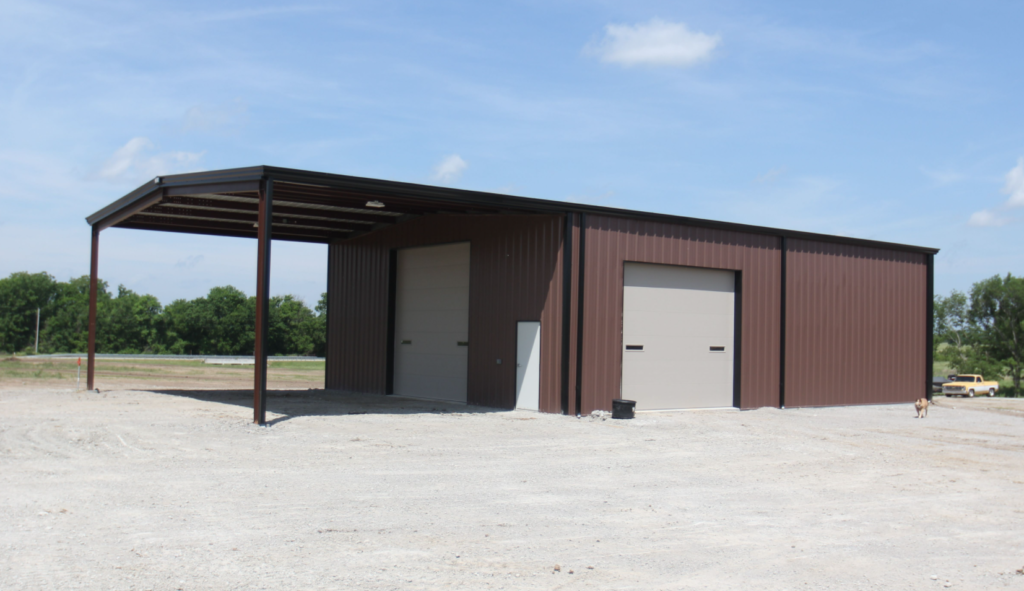 Customizing Your Perfect Workspace
Lucas Metal Works steel shop buildings are the perfect solution for any business or pleasure. Your options are only limited by your imagination. We fabricate shops for manufacturers, auto or equipment repair, metal and welding, carpentry and woodworking, agriculture, lawn and gardening, hobbies and crafts, audio video studios, or storage for your tools and materials. Our design team will work with you to maximize the usability of your available space. Do you need wide open space for large projects, or do you need a high number of workspaces for a variety of jobs, or additional storage space? We will help you plan ahead and include all the features your workshop will need, like power outlets, ventilation and storage space. Steel can be formed into uncommon shapes and sizes, so whatever you have in mind or need can almost always be accomplished. We design and manufacture shops with a vast selection of optional features to meet your specific needs.
With steel, not only can you create any type of workspace to suit your needs, but also completely customize it with personal touches. Enjoy the freedom to personalize your interior area, size, work stations and shelves. Choose different types of doors, windows, lighting, ventilation, or insulation. Use our free visualizer and color selector tool to consider over 100,000 different color combinations for your walls, wainscoting and trim! The possibilities are endless and the clean appearance of metal makes for a very professional-looking final result that will be pleasing to the eye every time. From a large business operation, to small private use structures, we will deliver the perfect shop building for your needs.
Why Building Your Shop With Steel Is The Right Choice
Consider the long list of reasons to build your shop with steel. Our workshops are constructed with the United States' toughest steel and will withstand all sorts of conditions that wear down alternative building materials. Steel is a resilient and durable material. Your building will be constructed to outlast the elements and stand the test of time. Your building will be weatherproofed to protect against rain, snow, and windstorms. You don't have to worry about rot or rust with a steel building. Metal structures are safe. No worrying about collapsing roofs or buckling walls. Metal panels are energy efficient. They keep the heat in during winter months and out during summer months, ensuring your increased comfort all year round while saving on heating and cooling costs every month of the year. Plus steel is almost maintenance-free. With a Lucas Building, you are guaranteed many years of reliable use and aesthetic satisfaction. Consider a workshop as an add-on to your business, garage, or home to enhance productivity and give you the dedicated space you need to finish all the projects on your to-do list.
Experienced Builders of Metal Shop Buildings
We know you have many options when you shop for a company to build with. We have been in business for over fifty years and our experience ensures that you are getting the best metal building possible. Our decades of expertise includes designing and manufacturing almost every style of building. With our experience and so many options available, we will create the perfect metal structure for your intentions. Whether you need it for your business, hobby, or farm, we have experience to deliver on what we promise. At Lucas, we're big enough to handle the large jobs, and small enough to call our customers, "friends". Contact us today for a free quote on your metal shop building.