How much would you want to sell a product that was a part of the Super Bowl or the World Series? One that was praised by the top athletes in the world.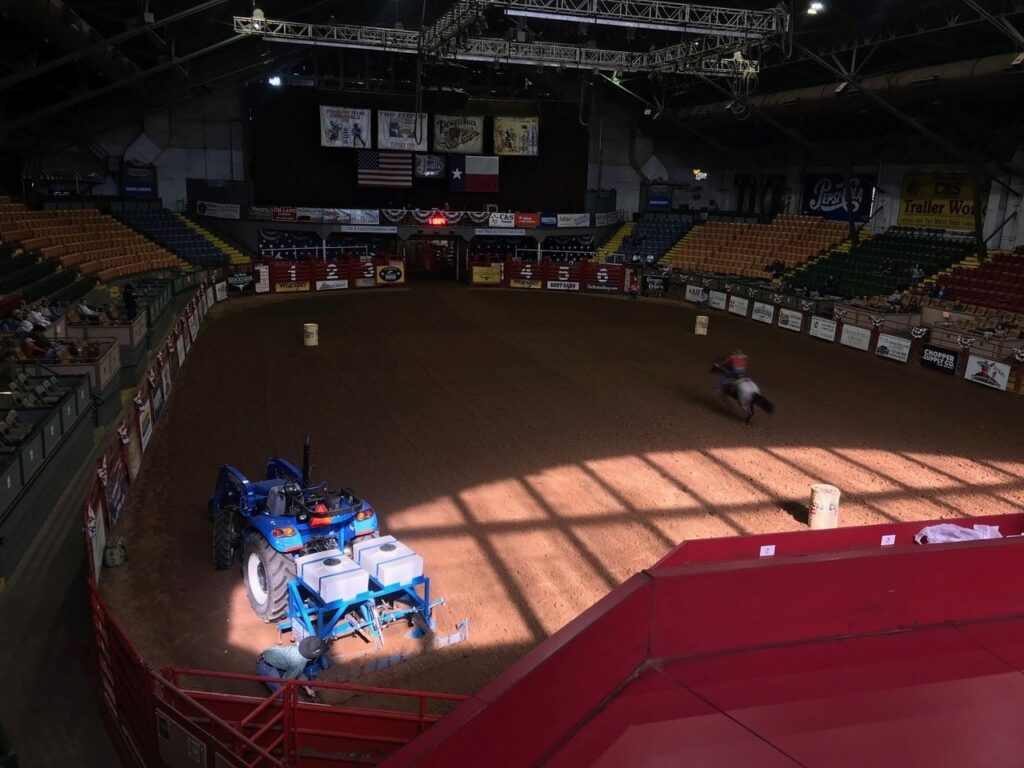 Known By Arena Owners & Event Organizers
With the Lucas Ground Hog, you have just that. The country's top rodeo arena groomer tool is trusted by the National Finals Rodeo and similar events across the United States. It keeps arenas safe for horses and their competitors, as well as providing efficient maintenance for arena owners.
Created by the head of a family of rodeo competitors, the Ground Hog empowers arena owners and rodeo event dirt crews to do all the work needed to create a perfect surface for competing. The Ground Hog reworks the surface with hydraulically operated ripper shanks and fills in all the holes left behind by performance horses.
How does this happen? The Ground Hog's double grader blades evenly distribute the dirt throughout the arena. This is followed by a finishing roller to create a compact and safe ground.
Become A Ground Hog Dealer
We are happy to share our stellar industry reputation with dealers around the country. Arenas, rodeo and horse events in your area could definitely benefit from a Ground Hog in their arena grooming tools. And here's the great thing, as a Ground Hog dealer, we promote you through our dealer marketing campaign and send you Ground Hog leads from your area.
The Ground Hog, the world's finest rodeo arena groomer, is available in seven different versatile sizes for both category 1 and category 2 tractors and comes in four colors blue, orange, black and green. (View the Ground Hog brochure) We have a recommended horsepower chart which you can share with your customers about which size of unit will work best for them. We've also created the new Ground Hog Watering System to cut down on area dust. This unit can be mounted on 7′, 8′, 9′, 10′, & 12′ Ground Hog Arena Tool models. In addition, the unit is available in three colors, blue, green, and black. When you add Ground Hog Watering System to your 7′, 8′, 9′, 10′, or 12′ Ground Hog Arena Tool, the Watering System will add 1,000 pounds to the total weight when the two 50 gallon tanks are filled to capacity with water.
A great story to tell potential customers is how the Ground Hog Arena Tool was created. The Ground Hog was designed in 1996 by Raymond Lucas, an arena owner and father and grandfather of nationally renown barrel racers. He wanted to create a device to provide a total solution for arena grooming, producing one consistent result every drag, with just one pass. His heart for the safety of horses and riders was key to giving the Ground Hog tool the reputation it has today. We can't wait for you to share that with your clients.
So why should you consider becoming a Ground Hog dealer? It's a proven piece of equipment, recognizable and attractive to arena owners and event organizers that may be customers of your business. Plus you can add it to your lineup of dirt-working equipment for ranchers and farmers. Lucas Metal Works provides thorough dealer service, including our dealer marketing program. It's a revenue-generating arrangement for our preferred dealers across the country. Why not stock the Ground Hog and see for yourself! If you're not a dealer and would like to be, contact us for more details.