If you own a riding arena or facility, you will be judged on the quality of the surface competitors ride on. Getting the arena floor in the best shape it can be is hard, ongoing work. But there is a company with decades of experience in making arenas great throughout, from the dirt to the roof.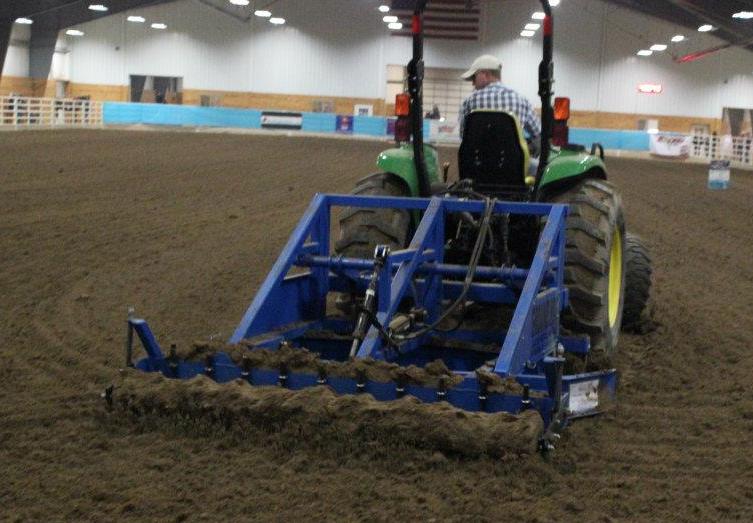 North America's #1 Arena Tool Of Choice
Lucas Metal Works' Ground Hog arena grooming tool helps arena owners and rodeo event dirt crews repair and rework an arena's surface. The Ground Hog can also take care of the task of filling in the holes horses leave behind, making the floor ride ready with just one pass over the grounds.
The Ground Hog is recommended by arena owners and riders across the United States because of how well it performs in all varieties of ground conditions. The Ground Hog has hydraulically operated ripper shanks which thoroughly rework an arena's dirt. Double grader blades fill in holes left by horses through a system of evenly distributing the dirt around the arena. The Ground Hog's pegged finishing roller then creates a compact and safe ground for horses and competitors alike.
Ground Hog Options And Attachments
The Ground Hog comes in seven different versatile sizes for both category 1 and category 2 tractors: 5′, 6′, 7′, 8′, 9′, 10′ and 12′ models. Consult our horsepower chart to find the size of unit works best with your tractor and arena. The Ground Hog also comes in four colors, blue, orange, black and green. View all the options in our Ground Hog brochure.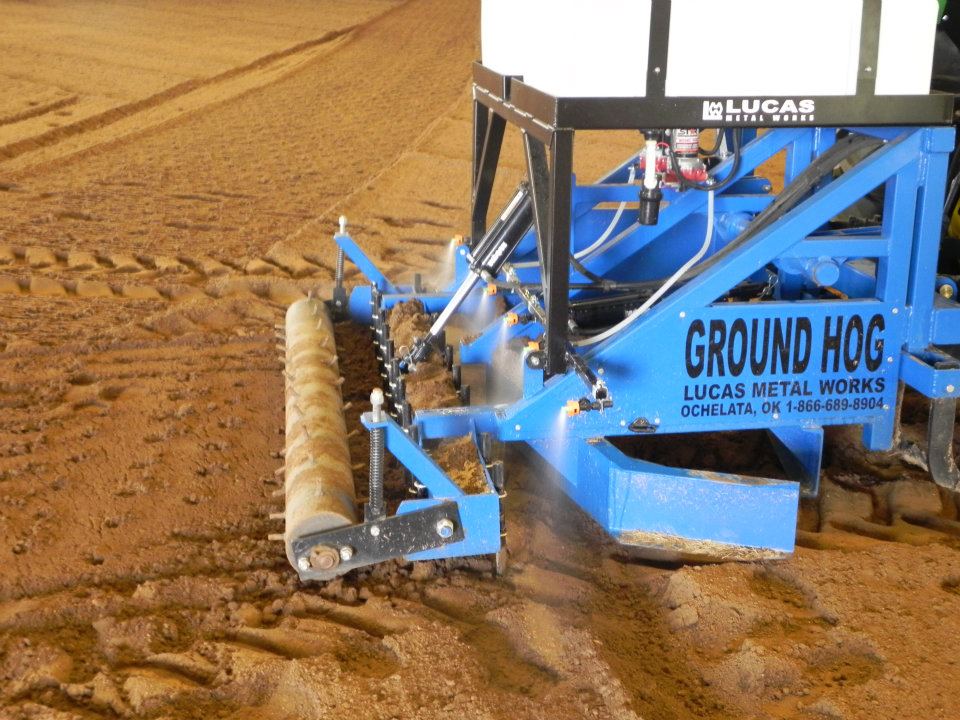 The Ground Hog has also has an available watering system attachment. The Ground Hog Watering System works to control dust, maintain the moisture in an arena's surface, and keep an arena's surface safe and injury-free. The watering system is now available to be mounted on 7′, 8′, 9′, 10′, & 12′ Ground Hog Arena Tool models. In addition, the watering system is available in three colors, blue, green, and black.
Designed By An Arena Owner
The Ground Hog was designed in 1996 by Raymond Lucas, an arena owner and father and grandfather of nationally renowned barrel racers. He wanted to create a device to provide a total solution for arena grooming, producing one consistent result every drag, with just one pass.
Contact us to discuss the right Ground Hog for your arena, or a find trusted dealer near you. And just in case you're thinking about building or expanding, we manufacture riding arenas too!